Author: Lamberto Zannier – 21/05/2019
The end of the Cold War has profoundly affected the global security environment and has fundamentally transformed the nature of conflict. Indeed, we now witness acute crises and hybrid conflict characterized by internal strife, sometimes in the context of failed or dysfunctional States; or violent separatism, in some cases accompanied by quasi-military operations affecting the civilian population. Classic interstate conflict has almost disappeared. Achieving a balance between the principles of protecting the sovereignty and territorial integrity of States on the one hand and the right of self-determination of peoples on the other appears increasingly difficult, and this has become a factor leading to widespread crisis and instability. The practice of politicizing minorities abroad, which is sometimes used by kin-States as proxies in the context of local crisis or conflicts, is on the rise.
As efforts to prevent crises and wars traditionally focus on interstate relations, these changes force us to rethink the effectiveness of the traditional conflict prevention methodology, refocusing it on policies aiming at increasing the resilience of societies to conflict by stepping out the degree of their integration. With the re-emergence of nationalism and the return of geopolitics on the international agenda, inclusive platforms such as the OSCE can prove extremely useful to open up a space for dialogue and joint efforts. However, higher levels of confrontation often lead to a total disregard of the tools of co-operative security and to a refusal to engage in good faith dialogue to try and solve problem which are becoming increasingly complex.
As we strive to adjust our preventive diplomacy efforts to address the new set of challenges confronting us, the conflict prevention mandate of institutions such as the OSCE High Commissioner on National Minorities becomes particularly relevant, since the implementation of policies aimed at promoting the sustainable integration of diverse and multi-ethnic societies, at a time when the degree of diversity of our societies has indeed dramatically increased, is one of the most effective tools to prevent modern conflicts. Promoting stability within our societies by focusing on the needs of minority communities, and in some cases encouraging larger autonomies or decentralization while maintaining a strong focus on inclusive policies that encourage cohesion, is an effective way to counter trends towards separatism and secessionism.
This approach, which is being shared in New York with a number of other regional organizations in the spirit of Chapter VIII of the UN Charter, entails the use of a very broad set of policies and a strong focus on longer term trends to address the root causes of possible future instability within our societies. For instance, we sometimes witness steps to accelerate the introduction of new legislation to strengthen the use of the State language by countries where minority languages had traditionally been given a stronger profile within the respective education systems. While the knowledge of the State language is key to promoting the effective integration of minority groups in society and an indispensable prerequisite to enable their full participation in the political, social, and economic life of the country where minority communities reside, reforms which do not allow for the gradual transition towards a stronger role of the State language, or which do not leave sufficient room for the continuation of education in the minority language as well, can be viewed as assimilation policies and provoke serious reactions by kin-States. To address misperceptions and, in some cases, to successfully address perceived imbalances through, for instance, phased implementation, impartial good offices based on recognized international practice are essential.
Yet, as the need for facilitation has increased, the space allowed for efforts to find common ground between different parties has shrunk, as countries increasingly urge the international community to take action against policies by other countries negatively affecting their own communities residing abroad while, in some cases, resisting requests to vet their own policies affecting internal minority groups. It is exactly in this polarized environment that the thematic guidelines developed by successive High Commissioners, reflecting the experience and expertise of the office, as well as best practices and lessons learned, and developed in close cooperation with renowned experts and academicians, can play a very useful role. While not representing a consensual set of principles agreed by the participating States, these recommendations draw their authority from the prestige of the office of the High Commissioner, the high quality of experts and contributing partners and, most importantly, the personal accountability of the High Commissioner to the membership of the organization.
The existing set of Recommendations and Guidelines covers the most relevant and sensitive policy areas related to minority protection and integration of diverse societies. It is key to ensure that they remain relevant and up to date and, most importantly, that they are well known and used by Governments and Parliaments as guiding principles for all policies having an impact on minorities and diverse communities.
The return of geopolitics has also created the need to explore new areas. One of the recurring issues emerging in the OSCE space is the damaging impact of competing and confrontational historical narratives on inter-ethnic relations in a number of participating States. The way people understand, remember, and value history is an important factor affecting the self-image and personal identity of a community. When approaching the past, people have a tendency to glorify and commemorate their achievements, victories, and sufferings, whilst glossing over the darker chapters about the tragedies and suffering they may have inflicted on others. As a result, different groups often attribute different meanings to the same events. Differences in the way different people see and remember history can divide societies for decades or even centuries after the events have occurred, including along ethnic lines. This is what some call the mirror of pride and pain, where the pride of one group corresponds to the pain of the other.
The State has an important role to play in addressing these issues. While, it is up to the central or local authorities to decide whether to permit or ban commemorations, to erect or remove statues, to name or rename public spaces and to organize how history is taught and learned in schools, these political choices may provoke strong reactions from society and can sometimes fuel tension and trigger conflict. As strong trends towards identity politics emerge as a result of the increasing diversity of our societies, Governments need to be all the more aware that if they impose singular historical narratives and prohibit alternative interpretations in 'memory laws', then they draw a line in the sand of time that can continue to divide societies for generations to come. And differences in historical interpretations and commemoration practices can have a negative effect on bilateral relations between States, which will in turn fuel instability and conflict. Governments should instead strive to create conditions for a tolerant, inclusive debate on historical memory with respect for human rights.
This is the time to reinvigorate the agenda of the international community and to invest in effective multilateralism. A strong investment is needed to revitalize collective efforts through inclusive platforms such as the OSCE at a time when States tend to regroup in smaller coalitions to advance partisan agendas is indeed a great strength. And the transparent engagement of multiple actors through cooperative processes is of key importance at a time when multilateralism is challenged and power-politics gains new traction.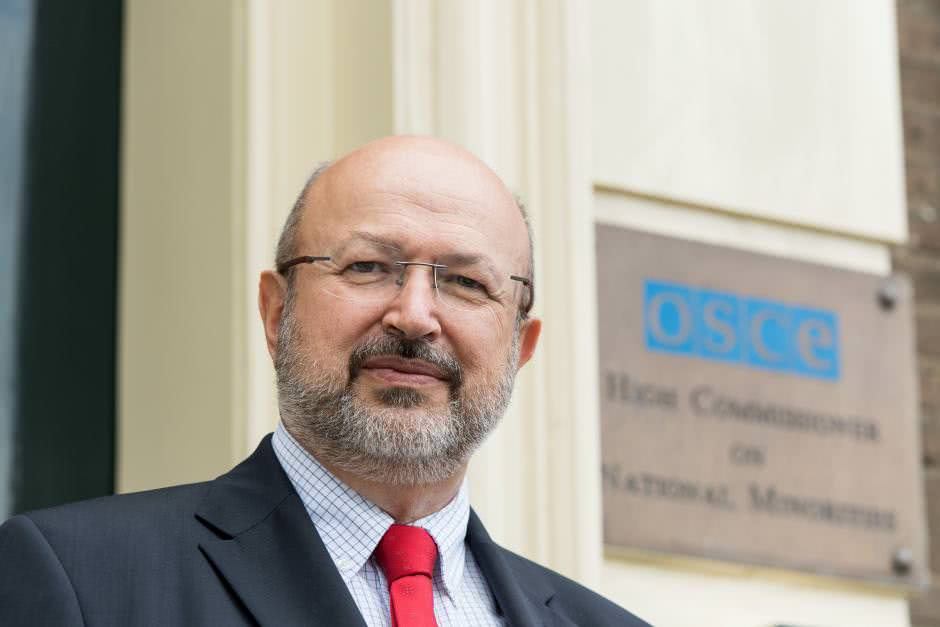 Ambassador Lamberto Zannier of Italy took up the mandate of OSCE High Commissioner on National Minorities on 19 July 2017. Before taking up the position of High Commissioner, Zannier was OSCE Secretary General for two consecutive three-year terms, from 1 July 2011 until 30 June 2017. Zannier joined the Italian Foreign Ministry as a career diplomat in 1978. From June 2008 until June 2011 he was UN Special Representative for Kosovo and Head of the United Nations Interim Administration Mission in Kosovo (UNMIK). From 2006 to 2008 he was Coordinator for CFSP and ESDP (now CSDP) in the Italian Ministry of Foreign Affairs, dealing inter alia with EU foreign policy issues and with Italy's participation in EU operations, both civilian and military. From 2002 to 2006, he was the Director of the Conflict Prevention Centre of the OSCE, where he focused on political-military issues, as well as crisis management, and was responsible for managing the OSCE's field operations. Previous senior positions include Representative of Italy to the Executive Council of the Organization for the Prohibition of Chemical Weapons (OPCW) in The Hague (2000-2002), Chairperson of the negotiations on the adaptation of the Treaty on Conventional Armed Forces in Europe (1998-1999) and Head of Disarmament, Arms Control and Cooperative Security at NATO (1991-1997). Previously, he served in Rome, Abu Dhabi and Vienna, mainly specializing in multilateral and security affairs. He has authored several publications on security, conflict prevention and crisis management issues. Zannier holds a law degree and an honorary degree in International and Diplomatic Sciences from the University of Trieste, Italy.
This article is published within the Platform Europe Project
Previous contributions:
Andrey Kortunov: What Kind of Europe Does Russia Need?
Côme Carpentier de Gourdon: For a New Alliance among European Countries
Alexey Gromyko: Political Landscape of Europe. The Spectre of Geopolitical Solitude
Iurie Roșca: Towards Continental Unity
Walter Schwimmer: The Future of Europe
Vincenzo Maddaloni: L'onda dei salvinisti frantuma l'unità dell'europa
Anis H. Bajrektarević: Europe – the letzte Mensch or Übermensch, the new Byzantium or declining Rome
Vladimir Kulikov: Accepting locality as a global trend: implications for Europe
Giovanni Saccà: L'importanza e la necessità delle grandi infrastrutture europee
Chiara Saraceno: L'importanza di una Unione Europea Sociale
Maria Grazia Melchionni: Looking ahead and beyond for Europe
Andrey Kortunov: Europa imprevedibile
Franco Cardini: Per un sovranismo europeista
Laura Garavini: Intervista sull'Europa
Alexander Rahr: L'Europa, la Russia e il mondo che verrà
Cesare Ciocca La dimensione marittima dell'Unione Europea
AntonGiulio De' Robertis: The Lost Soul of Europe
Adolfo Morganti: La battaglia delle parole e il futuro dell'Europa unita
Andrey Kortunov: L'Unione Europea e il vento dell'Est
Mark Entin, Ekaterina Entina: Russia, the Council of Europe and the Future of European Politics
Fabrizio Noli: L'Unione Europea. Un grande avvenire dietro le spalle
Thierry Meyssan: The European Union, in the moment and in the long run