Author: Andrej Il'nitskij – 29/09/2021
"Nothing else in the world…not all the armies…
is so powerful as an idea whose time has come."
Victor Hugo
BIG CHANGES
We are living in the era of changes.
After decades of relative stability, humanity is entering a systemic crisis that will cause socio-political shock in most countries.
There is an expert consensus on this issue, the disputes are only about the date of the world dropping into "crisis peak" – 2022/23 or 2024/25, that is not an essence on a historical scale.
An existing world order is already changing, threatening to plunge into the chaos the whole so-called "civilized world''.
Countries that will be able to withstand this period (according to expert estimates — the "turbulence period" will last until 2030) will create new rules and a new world order. Losers will fall behind forever, and a few will remain only in history, as it happened with great empires of antiquity or with some European states in the 20th century.
The growing wave of global chaos can also invade Russian borders.
At the same time, as it has happened more than once in history, the global crisis is a chance for the revival of Russia as one of the world leaders of the XXI century.
We used to talk about our problems — "Earlier the future was better…", but the point is that the rest of the potential world players' future is worse. Conditions of our army and MIC, a drastically increased level of food security, thousands of years of historical experience, and most importantly — the education, wisdom, passion and mobilization skills inherent to Russians give Russia a historical chance.
Continue reading, download the Analytical Dossier AD_29_2021
This article has been previously published at "Парламентская газета"
Thanks to the author for the reproduction permission in the Vision & Global Trends AD Series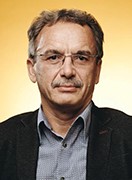 Andrej Il'nitskij – Class 3 Active State Advisor of the Russian Federation